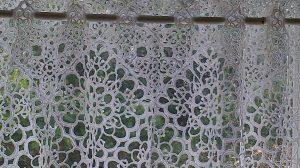 "Art imitates Life", in modern times, we are introducing "Art imitates Machine".
At Lace And Linens, our time consuming & labour intensive handmade tatting lace tablecloth can easily "imitate" the highly revered Macramé Lace imported from France. We offer our version of Macramé Lace alternative at very competitive price for an elegant touch.
This exquisite handmade tatting lace tablecloth features interesting geometric design with enough variation between placements at angles & circular flowers to escape monotony.
The wide "holes" along all 4 sides provide easy ready-to-hang curtain as "grommets without metal". To further enhance aesthetic, the triangular edging becomes a beautiful header.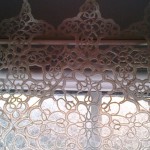 We are proud to present our interpretation of France imported Macramé Lace window treatment…elegant & budget wise. All lace tablecloth is a natural window covering, transparent yet with enough privacy protection. Hand made tatting lace can be amazingly sturdy, knotting many strands of cotton thread together.
Made of pure Cotton.

Crisp white cotton pearl thread.

Size: 35″(w) x 35″(l) square.

Measurements are approximate with a variance of 5-10% deviance.

Precise dimensions can be available upon request.

NO Dryer.