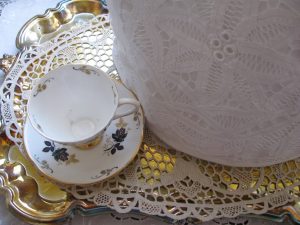 Battenburg Lace originated during Queen Victoria's reign, named after her son in law, the Duke of Battenberg. Every English Duke had his own lace pattern. Our Battenburg Lace is a fairly sturdy construction, much favoured for tablecloths and wedding dresses. It uses woven tapes and elaborate stitching together to form some of the lovely designs.
We create this unique tea cozy for an elegant afternoon tea. A tribute to Queen Victoria's son-in-law, our tea cozy is beautifully hand crafted with lace brides, lace bars and lace wheels and lace rings.

The central motif is a sunflower with 4 hand crafted Lace Rings. Larger dome size to accommodate formal Victorian Silver teapot. 
It is All in the Details, a total of 6 layers of 100% premium quality Cotton fabric gives this Tea Cozy a stiffness, in addition to slightly padded with polyester batting.
Made of premium quality 100% pure Cotton.

All over Battenburg Lace decorated with lace brides, bars and Lace Rings.

100% Cotton lace.

100% Cotton lining a total of 8 layers.


Size : 12″(h) x 16″(w)  

Available in Winter White.

Covers only.

Limited quantities.

Measurements are approximate with a variance of 5-10% deviance.

NO dryer,