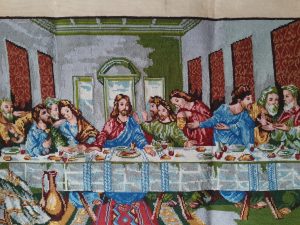 Rare and precious! Captured in a different art form! Leonardo Da Vinci The Last Supper Needlepoint Petit Point exquisitely hand stitched! 
Just like all arts…,many many hours of discipline resulted in this creation.
Below is a link and an excerpt about the incredible accomplishment of Petit Point embroidery.
https://www.lizzyb.ca/Needlepoint-Cross-Stitch-Petit-Point_b_13.html
"During the Victorian, Edwardian eras and the early 20th century, hand worked petit point became a specialty in France, Austria, and Hungary. The finer petit points held at least 900 stitches per square inch, some micro petit points have been known to consist of up to 3,000 stitches per square inch."
Most noteworthy micro petit point embroidered all flesh area face, neck, hands, feet. As a result, the very fine stitches create incredible details and depth of field. Well, how many stitches you ask. I lost count at 1,680 in a square inch,,,Jesus' face!
Without a doubt, this rare collectible is an heirloom treasure! An unusual large size 24″x43″ fully completed picture of The Last Supper Needlepoint and Petit Point is ready to frame, And the best part, Vintage but new and never been used. Certainly, you will be the first and only owner.
Furthermore, here is a sample of cost for just the canvas material…never mind the work!
https://needlepointus.com/proddetail.asp?prod=M173-3092&cat=149
https://thestitchersmuse.com/shop/en/home/10867-10867-silk-petit-point-gauze-23-ct-3-thread-ivory.html
Penelope Needlepoint Canvas from France

Gros Point embroidery : 100% Wool thread

Petit Point embroidery :  100% Cotton thread

Size  24″x43″

Sizes are approximate with a 5-10% deviance.

Spot clean