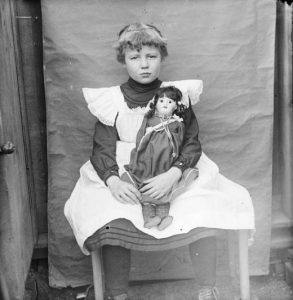 An apron is a garment worn at the front of the body, since ancient times, for practical and decorative purposes. Most our aprons tie at the waist, usually made of pure and white premium quality cotton.
Bring back family values and traditions beginning with a child's bib apron. Available in toddler size. Limited quantities.
We create this apron especially for toddlers, combining the "old" pinafore traditions with the "new" baby's bib. We take away the "wings" and embellish with Battenburg lace in the shape of a Sunflower, complete with lace stem and foliage. To add interest, there is a heart-shaped pocket. Made of 100% very fine cotton, pure and white.This bib apron is a pretty and elegant alternative to a short bib. It will serve to protect that expensive party dress, just like a "pinafore" in the olden days.
Made of pure 100% white cotton.

Battenburg Lace trim.

Battenburg Lace Sunflower motif.

Size : 14.5″(w) x 16,5″(l).

1 pocket : Battenburg Lace heart shaped.

Pocket size : 4.5″(w) x 4″

All measurements are approximate with a variance of 5-10% deviance.

No Dryer.