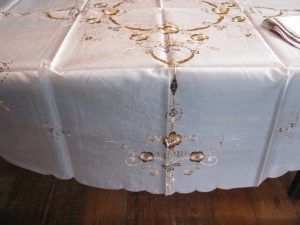 Pure 100% Silk tablecloth at once conveys luxury and elegance!  The shimmering appearance of silk is due to the triangular prism-like structure of the silk fibre, which allows silk cloth to refract incoming light at different angles, thus producing different colours. Natural silk ivory white colour.
Silk embroidery is an art form. From harvesting silk to dying each thread, the process reflects dedication to an art full of tradition. The resulting pieces are remarkable works of art, capturing color and light in breathtaking detail.
We offer this exceptional pure silk round tablecloth embroidered in variable shades of bronze colour silk thread. An exquisite work of art indeed!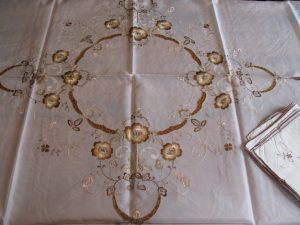 It is All in the Details, a close up version demonstrates long and short satin stitches. shadow embroidery, lace bars and lace brides, just to name a few expert techniques of highly accomplished embroiderers. Silk thread is usually of much finer strand than cotton or linen thread.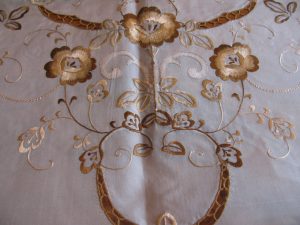 100% Fine Pure Silk.

Very fine Silk Embroidery Thread colourfast.

Bronze colour.

Round size :  72″

Matching Cotton Napkins :  18″x18″- set of 4

Measurements are approximate with a variance of 5-10% deviance.

Precise dimensions can be available upon request.

NO dryer.