The signature Royal Albert china patterns represent the romance of English culture for centuries…Now available for tablecloths too! Imagine serving guests in your beloved "Old Country Rose" china collection, beautifully presented on a handmade Cross-stitched tablecloth which matches the dishes. It may very well "steal the show" and become a most memorable event.
Royal Albert cross-stitched tablecloth is a perfect compliment to the beautiful china dishes. "Old Country Rose" pattern is hand cross-stitched with crochet lace inserts. Note how the even & fine stitching demonstrates the skill, not to mention long years of training of an expert artist in action. 8 tablecloths sizes to choose from, in round, oblong or oval shapes. Limited quantities. Cocktail size or Dinner size Napkins (packaged 4 in a bundle) sold separately & Flip Bun Warmers or Hot Roll Covers or Bread Basket Napkins.
Bun Warmer
These Morning Glory Cross-stitched with beautifully Applique flip bun warmers can be a lovely addition to match your china dishes and tablecloth! Available for purchase separately.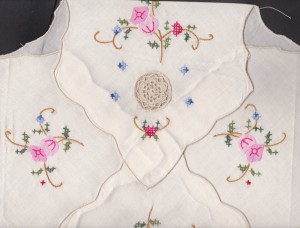 Napkins : Dinner size
Packaged 4 napkins in a bundle for a Green better living.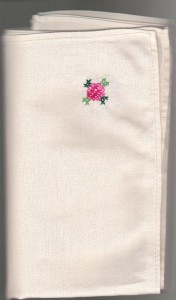 Made of pure cotton in vintage ecru colour.

Yarn dyed cotton embroidery thread for vibrant, lasting colours.

Hand Crocheted Lace insertion.

Cross-stitched embroidery by expert artisans.

Other sizes available : Oblong : 70″x108″, 70″x144″.

Other sizes available : Oval : 70″x108″, 70″x126″, 70″x162″

Round sizes: 70″, 90″

Measurements are approximate with a variance of 5-10% deviance.

Napkins (packaged in 4) can be purchased separately.

Flip Bun Warmers can be purchased separately.

NO Dryer.