This Venetian Lace square originates in Bohemia prior to 1900. One of the earliest patterns for this square can be found in Sophie Tatum LaCroix's first publication titled Old & New Designs in Crochet Work.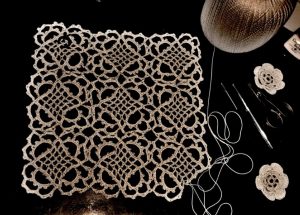 Inspired by the Arabian Square, as it was known in 1914, we are re-introducing the original pattern complete with picots, at very affordable prices. This beautiful and handmade Crochet Lace design is available in 6 sizes doilies and runners… Or, any size customizable in square or rectangle…simply add up the combinations. Vintage Ecru colour only.
It is worth noting that this handmade Venetian crochet Lace Square design is a ready made café curtain panel. Please check out our window section as curtain panel.
https://thelaceandlinensco.com/products/vienna-crochet-lace-cafe-curtain-panel
Runners
Vienna Crochet Lace runner- Inspired by the Celtic Knot symbol- beautifully designed to reflect a contemporary setting rooted in ancient culture. Imagine the rich ecru tone on a black contemporary coffee table. Although available in one size of runner, it can easily be fashioned into longer or wider or both to suit any surface…simply add more squares.
Matching Doilies
The beautiful doilies are designed to match the runners.
Sizes are approximate accordingly to each individual artist.

Made from pure 100% Mercerized Cotton thread.

Vintage Ecru colour.

Square sizes :  6″x6″, 12″x12″, 36″x36″

Oblong sizes :  6″x10″, 14″x20″, 16″x36″

NO dryer.