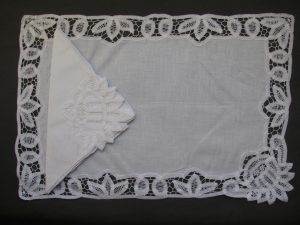 The Lotus flower always looks so clean and pure against the background of the muddy pond. Thus the lotus flower has come to be associated with purity and primordial goodness..And White is always the colour of purity and perfection!
We create this exquisite design in Battenburg Lace as an ode to this rare and wondrous Nature's gift replete with humanity's wisdom in symbolism. Beautifully hand crafted place mat with amazing detailed matching napkin,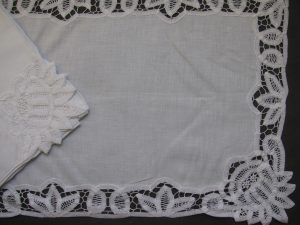 It is All in the Details, a close up version illustrates the skill of the expert lace maker and the deep meaning of this design. Both the place mat and the napkin feature a Lotus flower in full bloom. At the centre of this Lotus flower there are not one but two exquisite clusters of pistils…specifically eight. Each one of the eight pistils is a meticulous French Knot. Eight is a magical number for the Lotus flower, representing the eight-fold path to Enlightenment. Note that this Battenburg Lace Lotus flower features eight petals.
Made of 55% premium quality Linen and 45% cotton.

White colour.

Large Place mat size: 14″ x 20″

Napkin size : 18″x18″

All sizes are approximate measurements with a variation of 5-10% deviance.

Precise measurements can be available upon request.

Sold as a 2-pieces set.

Limited quantity,

NO Dryer.