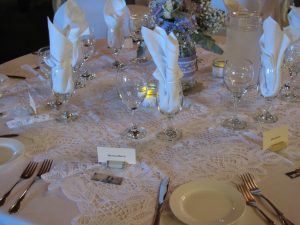 Solid Battenburg Lace Lotus Design Table Setting square lace overlay

Handmade lace was revitalized during the Victorian Era—which makes covering your reception tables in the frilly fabric that much more appropriate. And what can be more proper than Battenburg Lace created and named after Queen Victoria's son-in-law.

These Statement Linens Will Take Your Wedding Reception to the Next Level.                                              Linens are often the most attention-grabbing when they seamlessly reference another one of your celebration's major décor moments.
Vintage Weddings for Brides who are old souls and antique shop regulars, rejoice! Browse our tablecloth galleries for inspiration from retro Victorian tablecloths and be inspired to decorate your own unique wedding.