Generally for crochet lace we use finer threads and more decorative styles of stitching, often with flowing lines or scalloped edges to give interest. Variation of the size of the holes also gives a piece a "lacy" look. Inspired by the vintage 1940 pattern of Queen Anne's Lace.
Thin yarn and small hooks create airy, delicate flower motifs. Experienced needleworker hand crochet these heirloom tablecloths perfectly by counting stitches. It is All in the Details, each tablecloth is long and straight, the sign of craftsmanship par excellence. Available in crisp White colour or Warm Ecru colour.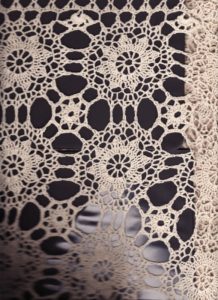 Close up view will demonstrate the expert skill and time consuming artistry of the craft! Note each layer of concentric circle leading to the centre of the tablecloth is stitched in a different pattern. The effect is evident and adds interest to the overall design.
Made of pure 100% Cotton mercerized thread.

Choose Crisp white or Warm Ecru colour.

Round sizes : White : 72″, 90″ diameter
Round sizes : Ecru : 72″, 90″ diameter

Very limited quantities.

Measurements are approximate with a variance of 5-10% deviance.

Precise dimension can be available upon request.

NO dryer.